About W7VO
: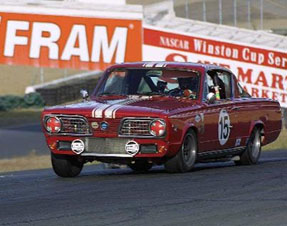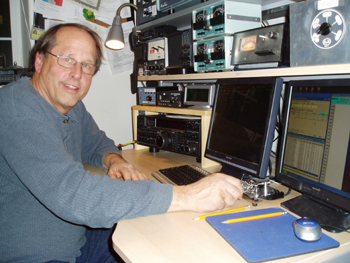 Mike with his 1966 Plymouth Barracuda FIA-GT race car, and enjoying some Ham Radio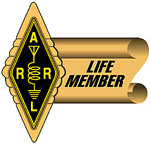 Mike has held these previous calls: WN6HKP (1974), WA6HKP (1975), and KW6C (1983) while living in California. When he and Shelley moved from Silicon Valley to Northern Oregon in July of 2007 he took on the call WA7MR as a temporary one until he could win one of the 7th area 1X2 call sign lotteries. Mike was finally assigned W7VO in August of 2008. See the original history of the W7VO call sign here.
Mike and Shelley also hosted station K6O for the 1996 World Radio Team Championship, with Trey, WN4KKN, (now W5KO), and Tree, N6TR, as guest operators, and Pat Bacon, WA7NIN, (now W7UA) as referee.
Mike is the current VP for the Columbia River DX Club (AA7CR), and President for the of the Willamette Valley DX Club He is a past member of Northern California Contest Club and the Northern California DX Club, and past President of the Santa Cruz County Amateur Radio Club (1981).
During 1977-1979, Mike was the ARRL Emergency Coordinator (EC) for Santa Cruz County, CA, and is currently an Assistant Emergency Coordinator (AEC) for Columbia County, OR. He has been a Life Member of the ARRL since 1976.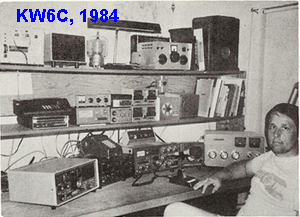 The Early Days: Mike has had a keen interest in in electronics since age 9, when he was dismantling everything electronic or electric he could find, building crystal radio kits, and using the 4.5 MHz local oscillator from an old 1937 Zenith short wave radio to completely white screen his grandparent's TV whenever he was in trouble and sent to his room. Luckily, they never discovered what was causing the interference that wiped out the TV in the middle of their Saturday LA Dodgers baseball games!

Introduced into ham radio as a late teenager by long time friends Jeff Glassman, WA6ENI, and Michael Goldberg, WB6DPG, Mike was given his Novice test in 1974 by mentor Mike DeWey, WB6VSE, (now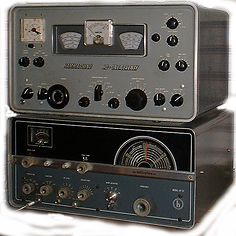 K5VSE). After earning his Technician, then Advanced Class licenses, he obtained his Extra Class in 1983 thanks to the shameless dogging of his good friend Lloyd Cabral, AA6T, (now KH6LC), who encouraged him to get his code skills up.
His first HF rigs were the Hammarlund HQ-170C receiver and Hallicrafters HT-37 transmitter. Boat anchors, both then and now!
Mike also holds a Commercial General Radiotelephone license from when he worked at ham/CB gear manufacturer SBE in Watsonville, CA in the mid 1970's. He currently telecommutes to his job for a Silicon Valley, CA high tech company.
Mike can usually be found at the microphone or key during many of the major contests throughout the year. His favorite is the 7th Area QSO Party (7QP), which is held the first weekend of May each year. It is his one opportunity to be considered "DX", operating from rare Columbia County, OR. Mike is also is registered as an ARES member and Oregon Office of Emergency Services (OES) volunteer.
Other hobbies Mike enjoys include racing a modified 1966 Plymouth Barracuda S in west coast vintage road races and enjoying his small collection of vintage motorcycles and cars. More information on his vintage racing hobby can be found at his racing website, www.teamstarfish.com
About W7VOX: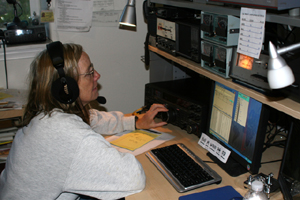 Shelley is a retired Critical Care Lifeflight / Emergency Room Nurse, and ham since 1979 when she received her first novice call as KA6IAJ, before Mike and Shelley were married. She upgraded to Technician Class and received N6DUI shortly afterwords. She had studied all on her own for the test without Mike knowing it, went to the FCC office by herself, and surprised Mike with the new license!
Shelley at the microphone during ARRL Sweepstakes, Nov 2009
Shelley changed her call to N7DUI when we moved from 6 land to Oregon in July of 2007. When Mike received the W7VO callsign in August of 2008 she changed her call to W7VOX. After all, she is the "X"YL of W7VO! Shelley recently did the free pass "Technician Class Grandfather" upgrade and is now a full General Class licensee, helping out during contest weekends.
Active in ARES and our local Community Emergency Response Team (CERT) when we lived in Mountain View, she is currently a member of the Columbia River DX Club and is registered as an ARES member and Oregon Office of Emergency Services (OES) volunteer.
Since she retired from the Nursing profession in 2006, most of her time is now fully consumed with her expansive vegetable garden, two horses, cat, dog, and five chickens. (Talk about QRM!)
Web site and all contents © Copyright Mike Ritz, W7VO, 2009-2014, All rights reserved.
Free website templates