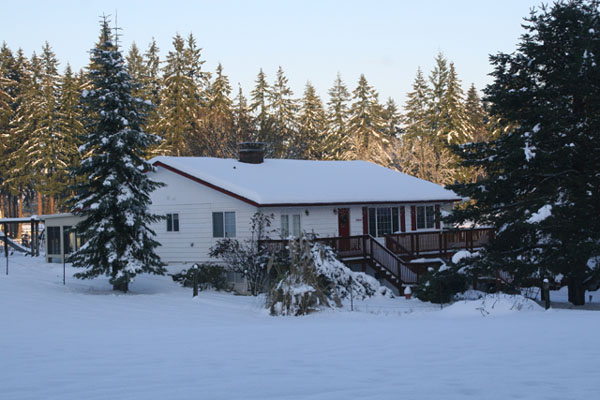 Our Scappoose home buried in snow, December 2008
Home Address:
33643 Burma Road
Scappoose, OR 97056
If you are ever in the Portland area, come by and visit us! We always have a hot cup of coffee waiting. We are just off Highway 30, about 25 miles North of Portland.
To contact us by e-mail: (Mike's call) at arrl.net
We 100% QSL those that send us QSLs, SASEs are appreciated from US stations who want a "real" paper QSL card. Please keep in mind that we sometimes work over 1,000 stations during a major contest, and it takes time to respond to the hundreds of QSL requests that both snail-mail and the internet generate. We verify each one against our station logs.
We also upload all logs, contest and otherwise, to ARRL's Logbook of the World (LoTW) Link here,
(Contest logs generally get loaded pretty quickly after a contest, general contacts take a while longer because we do them in batches.... Be patient!
We are also registered with e-QSL. Link Here
DX, please QSL via the 7th Call District buro, e-QSL, or LoTW.
Thanks and 73!
Mike, W7VO, and Shelley, W7VOX
Web site and all contents © Copyright Mike Ritz, W7VO, 2009-2010, All rights reserved.
Free website templates