The station is currently equipped with three separate operating positions spanning two rooms:
Station #1- Main station (The new stuff)
Station #1 consists of a Yaesu FT-2000 with the latest PEP-2000 upgrades plus the DMU-2000 with an Ameritron AL-1500 amplifier.



Above the FT-2000 is a Yaesu FT-1802E two meter FM rig and an Ameco PT-3 Preamplifier, used on 80m and 160m with the Beverage receive antennas. The yellow box marked W7VO controls the direction of the Beverage antennas (N or S), and switches between the use of the SP-2000 speaker or headphones. We have added the "-RA" modification to the Ameco preamp, (Page 1) (Page 2) which adds a second switched Rx antenna input to the unit. This will eventually be tied to a K9AY loop antenna, so we will have a selection of Rx antennas for the lower bands.
The FT-2000 is an interesting radio, certainly one of the most complex piece of ham gear I have ever seen. There are exacly 100 knobs and buttons on the front panel! I have made one minor modification to mine to keep the transmitter from getting into the RX ant port and damaging components. This is shown on my FT-2000 page, and I am sure there are more to come.
For antenna switching there is a MFJ-4726 (6 antennas/ 6 transceivers) switch, and a separate Ameritron RC-4 switch which controls the 4 sloper antennas. There is also a switch for the 6 meter yagi antenna, which grounds it when not in use.
The antenna tuner is a vintage RF Components Maxi-Tuner, modified with a pair of vacuum relays that enable the tuner to be bypassed when not needed. The bandwidth of the TH6 is somewhat narrow, and this tuner primarily used when we run in the CW portions of the bands.
When operating contests we run the N1MM software package, which is tied to the radio via an IBM P4 NetVista computer running Windows XP Pro located under the desk. Ragchew QSOs are logged using the N3FJP General Logging Program so they can be easily uploaded to ARRLs LoTW.
When running contests, we use a Heil Pro headset, with the HC-4 mic element, otherwise it is a Yaesu MD-100a8x and the SP-2000 external speaker. For CW, there is a choice of a Bencher BY-1 key, or a Vibroplex Vibrokeyer.

---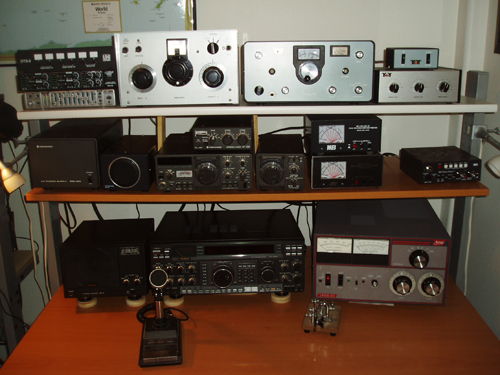 Station #2- 1970s-1990s Station

Station #2 currently has three vintage transceiver combinations that can be used:
The bottom radio is a fully equipped Yaesu FT-1000D with the matching SP-5 speaker feeding an Amp Supply LK-500ZC amplifier. I have added the Inrad roofing filter to the FT-1000D, along with the W8JI noise blanker and key click mods. These are mandatory mods if you use a FT-1000 in a contest environment! For voice keying as a second contest station, a MFJ-434B is used.
Above the FT-1000D is a Kenwood TS-120S, with the matching VFO-120, SP-120, AT-120, and PS-30 (with deep cycle battery back up power for emergency use), This is a very simple radio to use, and it is great that any recently minted General Class ham can come by the station, and start making contacts without a lot of controls to fiddle with. Turn it on, tune the VFO, and start working them. Try that with the FT-2000!......
On the top shelf is a vintage Ten-Tec Century 21 CW transceiver and matching crystal calibrator and tuner that I used as a novice, and is still one of my favorite radios. Along side is a homebrew antenna matcher I built back in the 70's, and a headphone amplifier connected to the FT-2000 and the FT-1000D. The amp is used during contests so shack guests can listen in on the action without having to use the external speaker. The 4 output ports each have their own volume controls, and a graphic equalizer is used to enhance the audio. This set up minimizes disruptions while operating. On the far right is the MFJ voice keyer.
---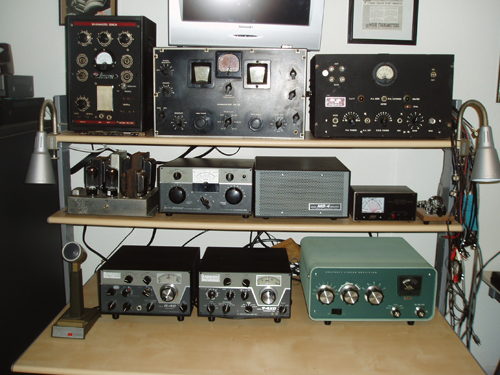 Station #3 - The Boat Anchor Station (1930s to 1960s)
Station #3 is our "vintage" operating position, with two sets of equipment, spanning two important generations of ham radio, postwar, and the late 60s-early 70's.
Along the top is our postwar era CW/AM station. It consists of a Hammarlund HQ-120X (1939 vintage) receiver, and a choice of a very rare John Meck Industries T60-1 (1946 vintage, less than 200 built) transmitter (pair of 6L6s), or a Harvey Wells Bandmaster TBS-50C/D (1950 vintage). The external power supply (APS-50) for the Harvey Wells is on the second shelf. To complete the experience is a set of WWII era headphones and a J-38 straight key. Frequency control is via a supply of FT-243 crystals. This equipment is not fully operational yet, but will be soon.
The bottom row comprises a Drake C Line (all 1973 vintage), consisting of a Sherwood modified R-4C, TX-4C, MC-4/AC-4, and MN-2000 tuner, followed by a Heathkit SB-200 amplifier upgraded with all the Harbaugh goodies. The microphone is a Shure 444.
Not shown is my RME 4350 reciever and matching speaker. (Only so much room on this bench!)
More information on my Drake equipment restoration here.
Web site and all contents © Copyright Mike Ritz, W7VO, 2009-2014, All rights reserved.
Free website templates